UnBoxed - Happy Days
Hello!  Sherri from A Quilting Life here today to share a little bit about our Happy Days collection. If you're not familiar with us, we are a mother-daughter design team living in southern Nevada. We're both smitten with all things quilts and quilting, and are excited to introduce you to this fun collection.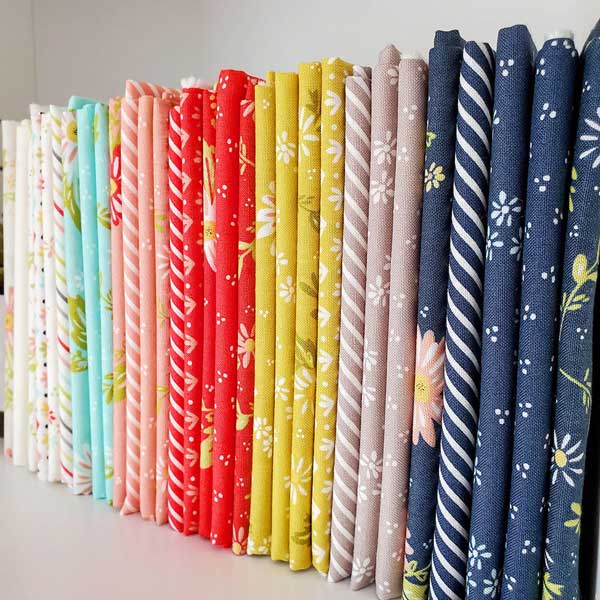 Chelsi and I both design patterns and have been sewing up a storm with these fabrics—I believe between the two of us, we have made over a dozen quilts using this versatile collection.
I love hexagons and English paper piecing, and am thrilled to be able to share my Sweet Grandmother's Flower Garden pattern with you. Using the Moda Honeycombs that go along with this quilt makes the cutting go extra quickly. This quilt finishes at 60 ½" x 60 ½".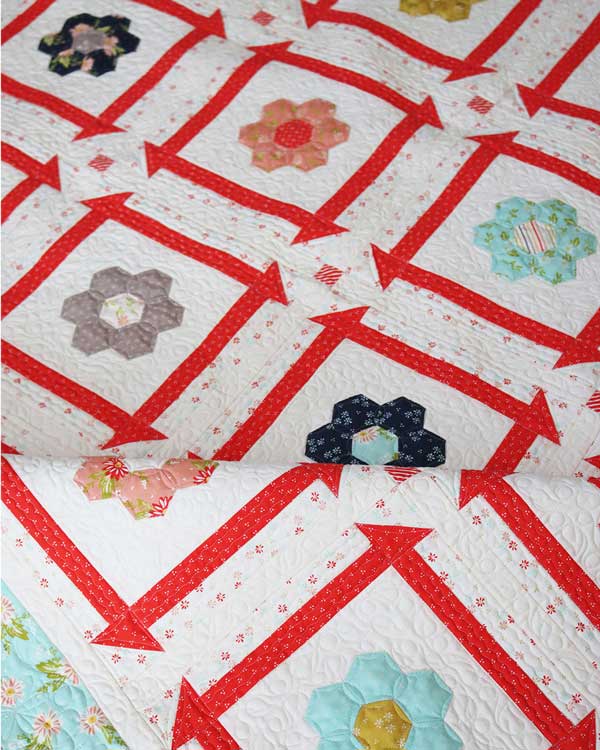 The pattern is titled Sweet, and it is QLD200.
My Beach House row quilt which finishes at 50 ½" x 59 ½" is another favorite design. It also utilizes just a few Grandmother's Flower Garden Blocks and is a perfect introduction to the technique. This quilt makes a great block of the month project, too!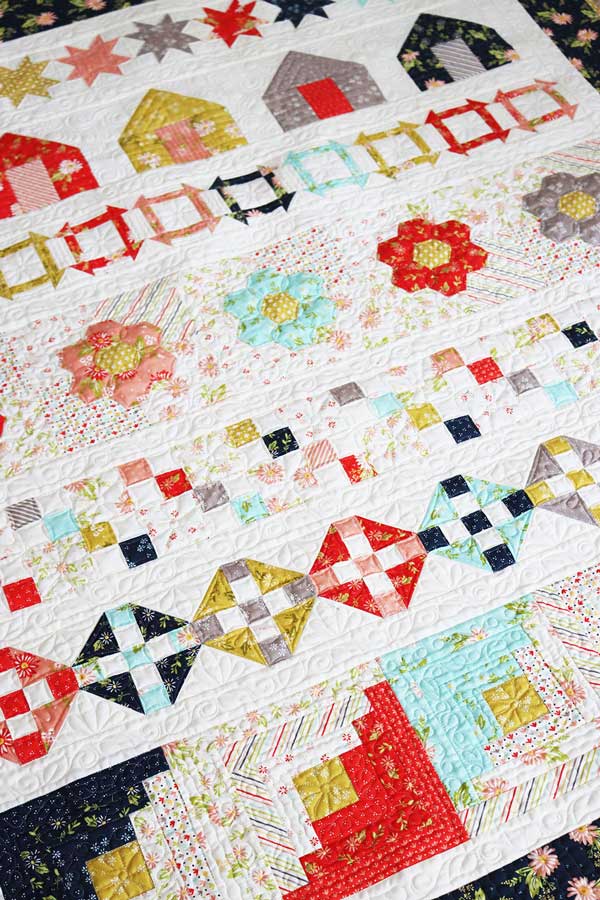 Beach House is QLD197.
Summer Stroll uses a Layer Cake and 2 Honeybuns—so this one is a real time-saver as well. This quilt finishes at 67" x 67".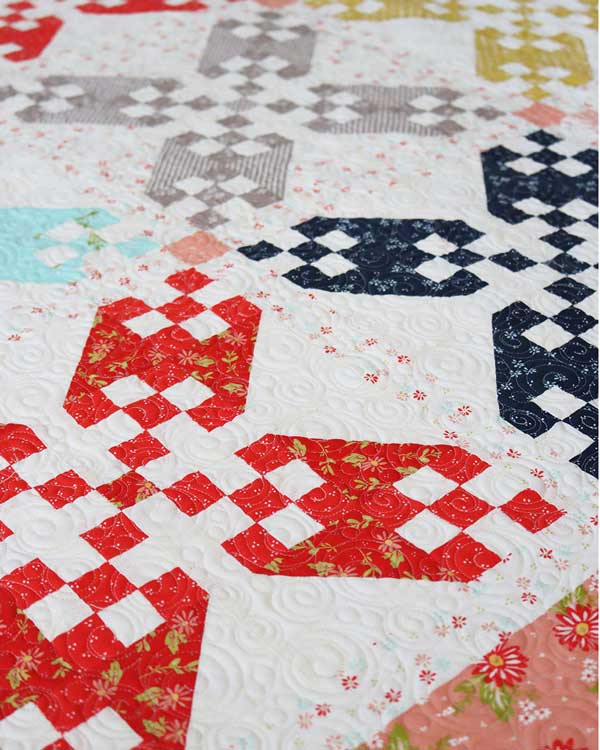 Summer Stroll is QLD199.
I also designed Seaside to go with the Happy Days collection. I love star blocks, and Seaside is a fat-eighth star quilt finishing at 61 ¼" x 74 ½".  It is QLD198.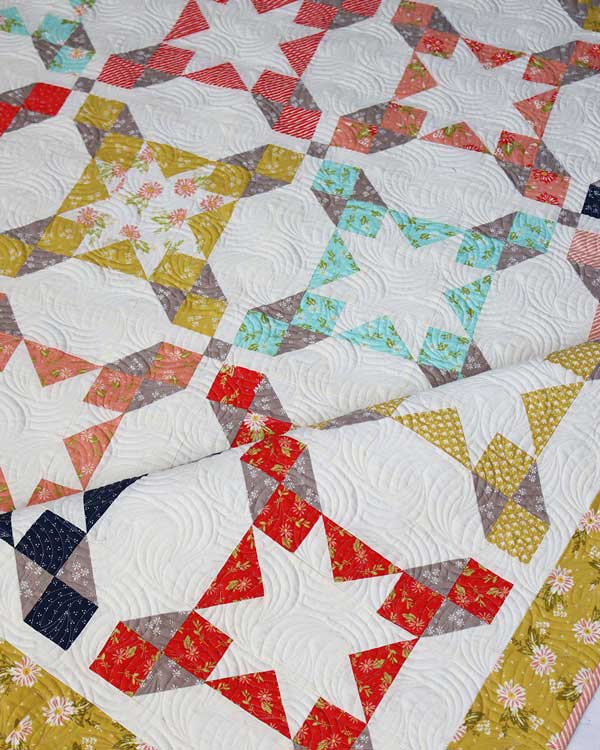 Finally, I have a quilt called Nine-Patch Square Dance which was just published in the April issue of American Patchwork & Quilting. This quilt uses Honeybuns along with a charm pack and would be super easy to kit for those wanting to make this magazine quilt.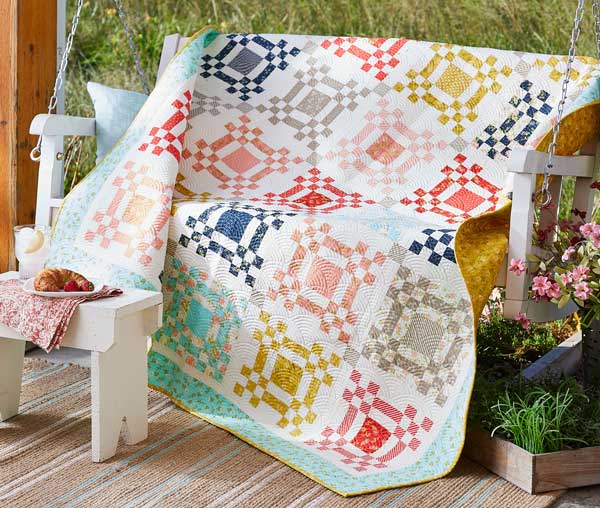 Used with permission from American Patchwork & Quilting® magazine. ©2021 Meredith Corporation. All rights reserved.
Chelsi also designed some beautiful new quilts with our Happy Days fabrics. Her Botanical Garden is my personal favorite—I had a lot of fun piecing this one for her.
Botanical Garden uses a Layer Cake and yardage, and it finishes at 66" x 79".  It is CSD118.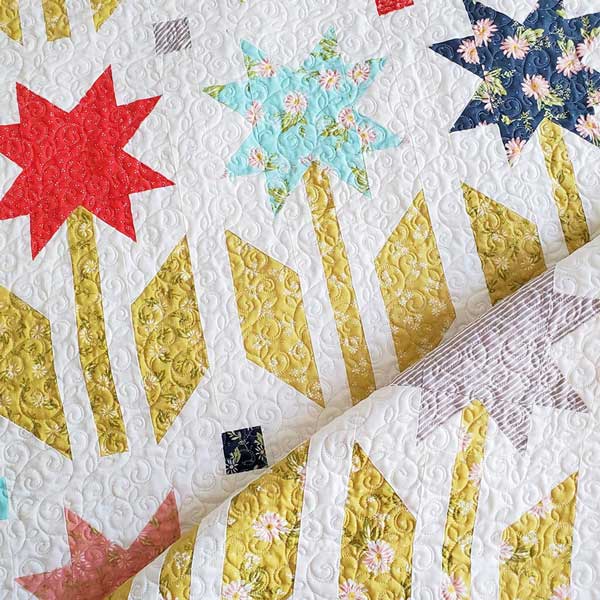 It's even prettier quilted.
Chelsi's Land I Love row quilt finishes at 57" x 55" and uses fat-eighths. It has a fun patriotic flare which works well with this collection.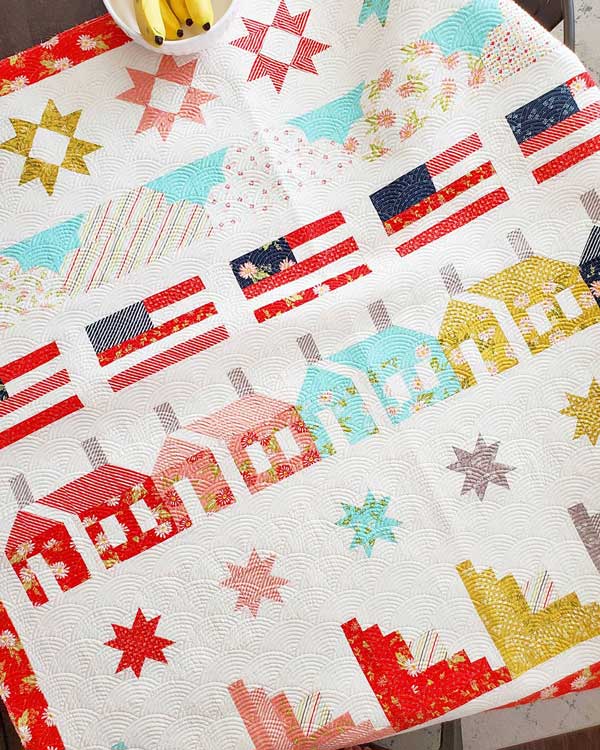 Land I Love is CSD120.
Another of Chelsi's patterns with a decidedly patriotic flare is her All-American quilt which finishes at 66" x 78" and uses fat quarters.  It is CSD113.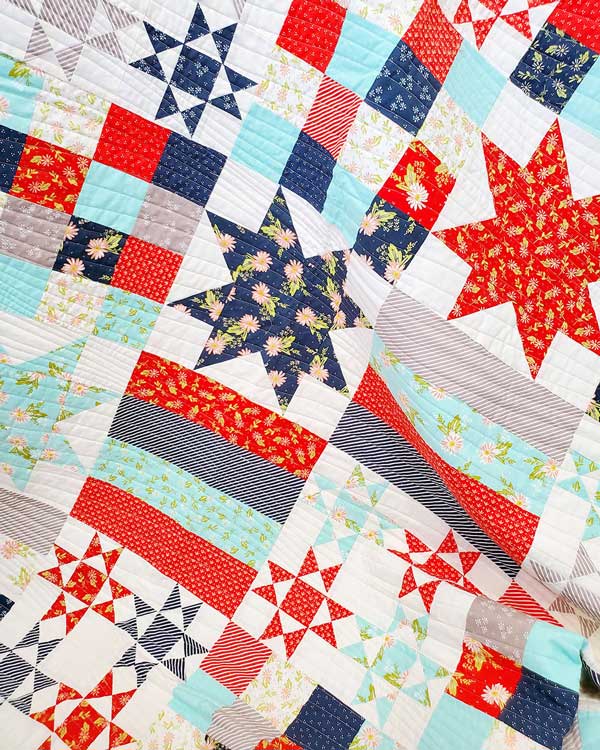 The last of the quilts is Origami, it is also a fat quarter quilt pattern pieced with big blocks and finishing at 81" x 81".  Origami is CSD119.
While we both love using prints, Chelsi and I do sometimes add Bella Solids to our projects.  Our picks for Happy Days are:
Aqua - 9900 34
Ivory - 9900 60
Peach - 9900 78
Stone - 9900 128
American Blue - 9900 174
Citrine - 9900 211
Geranium - 9900 258
We hope you will enjoy creating beautiful quilts and projects with the Happy Days collection!
Sherri
Be sure to ask about this collection at your favorite quilt shop.
Follow Sherri & Chelsi on social media: