UnBoxed - Cottage Bleu
Wouldn't you like to escape to a comfy cottage, full of breezy butterflies and giant blue buds of hydrangeas? That serene and relaxing image was on my mind as I painted the hydrangeas with rich blues and a touch of purple, mixing with light cool blues and soft seafoam and a range of greens.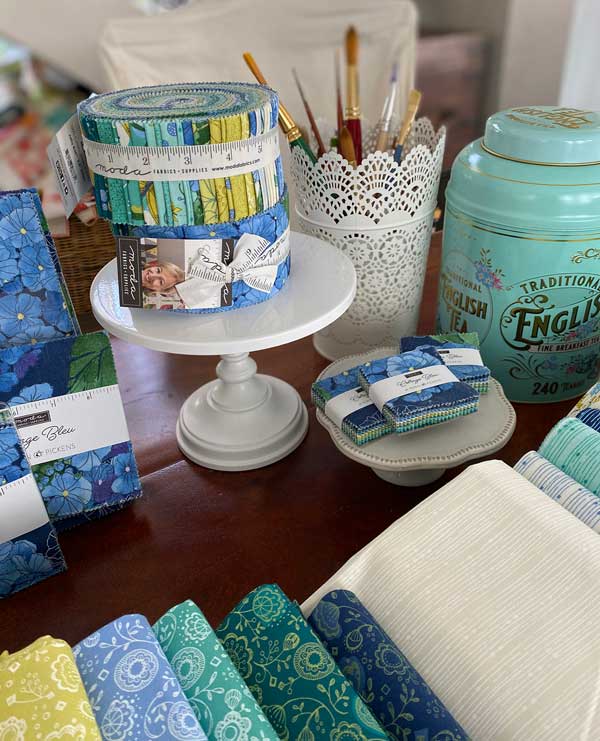 My imaginary cottage is filled with blue and white painted china and pretty bowls and elegant, comfy decor. So many of us have spent more time at home in the last year, so where better to decorate with the things that make us happy and create this type of calming space? Often all it takes is a pretty vase with big romantic floral blooms to bring some beauty into the space.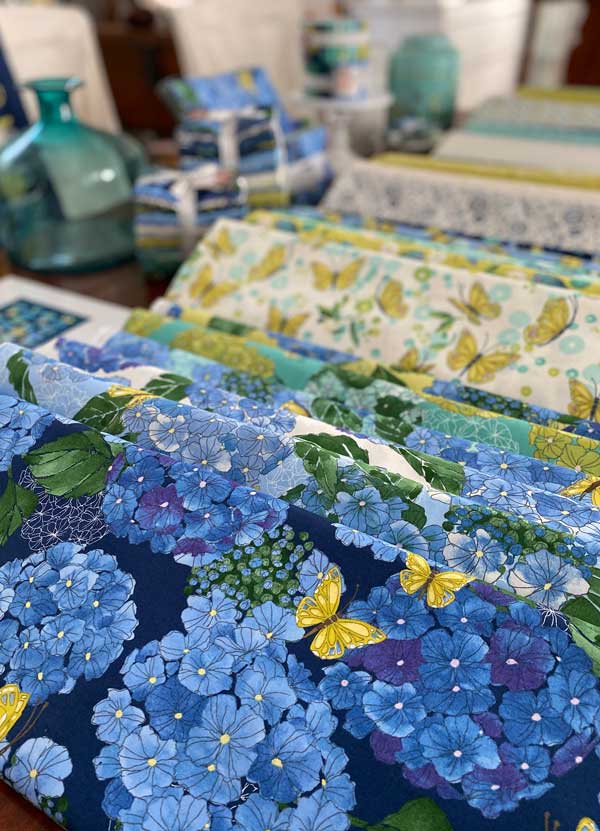 The simple touches of a pretty china teacup or ginger jars and lovely bowls add an elegance to our rooms. In my Cottage Bleu collection, I was thinking of the things that make my space feel special. I was drawn to the calming feeling of blues, from the light shades of sky to the deep navy night, mixed with those big blue blooms.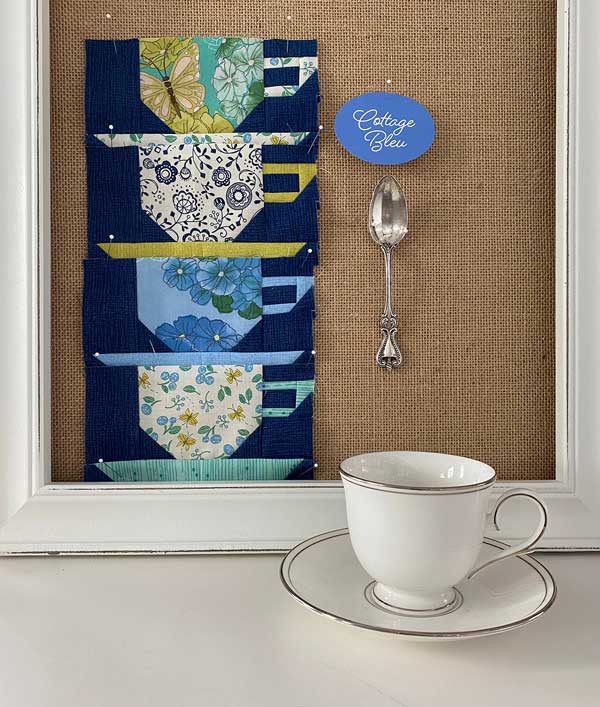 Emerging buds come with soft greens and deep emerald leaves. This hydrangea line, joined with fluttering butterflies, celebrates those blues and greens and citrusy yellows with creamy whites. The main hydrangea print is on light and Midnight dark blue, white, two shades of green, and my favorite - a citrusy green/yellow color called Sunlit.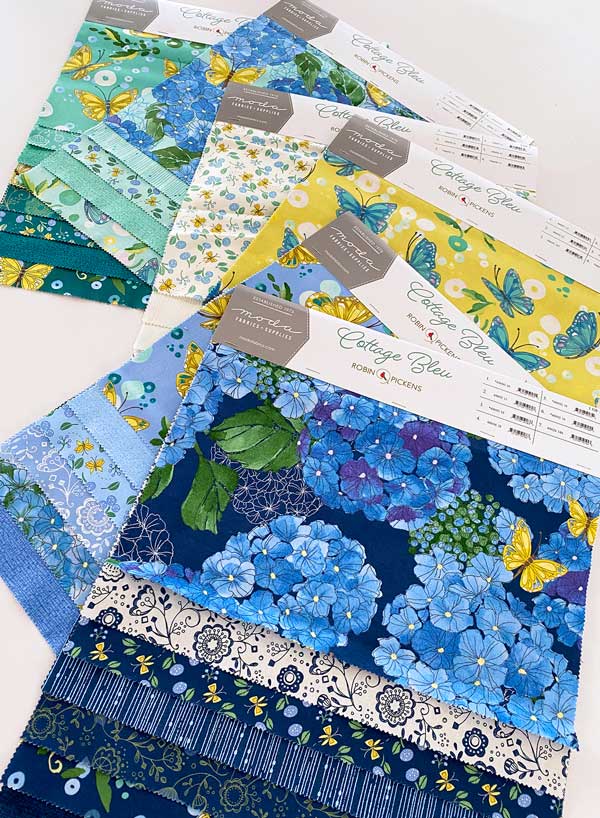 The main hydrangeas with butterflies also coordinate with more butterflies, sketchy lines, little scatter toss prints, and my floral fling linear drawings. And there are seven new colors of Thatched that coordinate as blenders and make colorful textures for rich backgrounds. Welcome the colors of Mist, Cornflower, Midnight, Deep Sea, Ocean, Dewdrop and Sunlit in my Thatched print. Do you have some other previous Thatched colors? Here are some other great coordinating shades: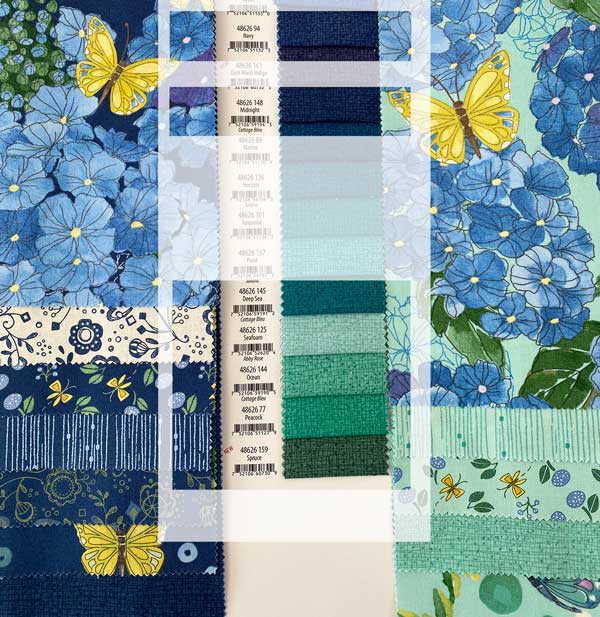 If you have Thatched Navy 94, it is a good companion to this dark blue group. Deep Sea and Ocean are new with Cottage Bleu but Seafoam from Abby Rose is also a nice addition like Dewdrop. The new Thatched Spruce brings out the warm dark green of the leaves.
What are some solids that work with this collection? I wanted to share my Bella Solids color card and point out a few colors that work nicely with these groups. For blues, Bella 30s Blue 25 is great with the medium blues.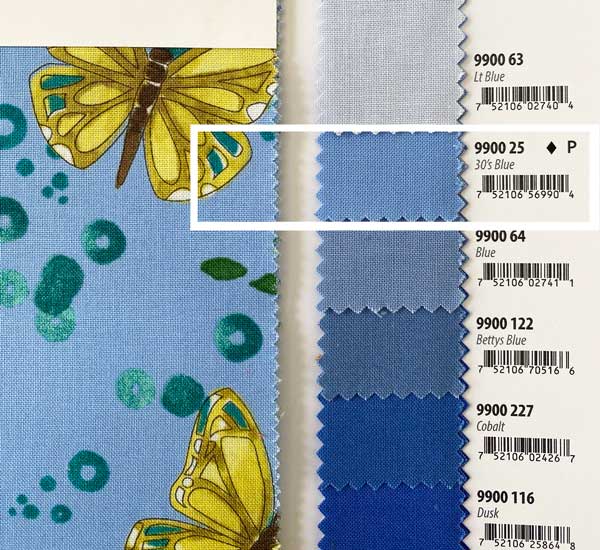 And Nautical Blue 236 works well for the dark background.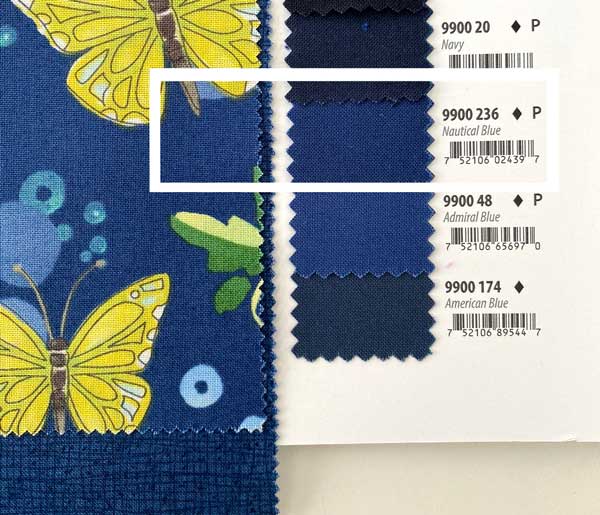 For greens I would go with Bella Bermuda 269 and Seaglass 378.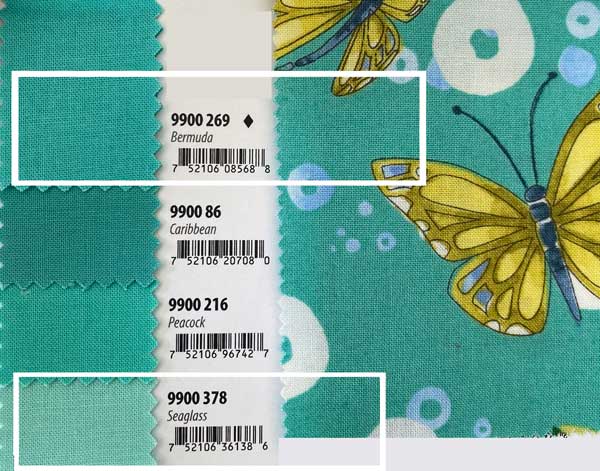 A lovely white shade for backgrounds is Bella Porcelain 182, but Off White 200 would work as well.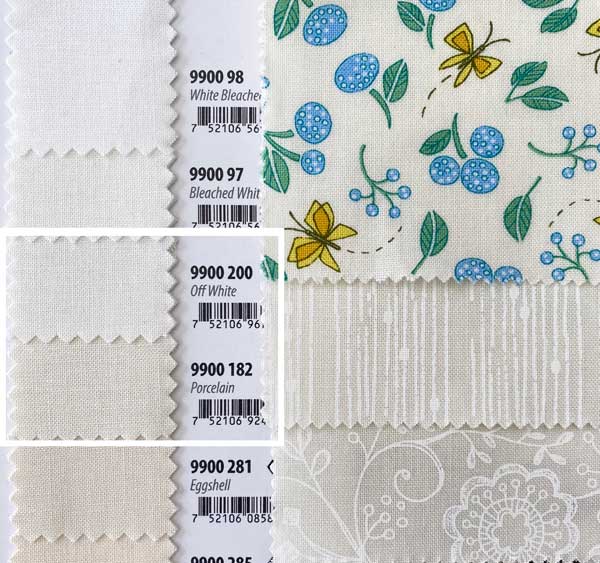 This year I've been so excited to have Thatched on 108 inch wide backs! This fabric is so soft and dreamy to work with for your quilt backs. It rolls up beautifully onto my longarm and is such a pleasure to quilt with. The Navy, Cream or Seafoam colors of Thatched 108" would all work well for backings with this line.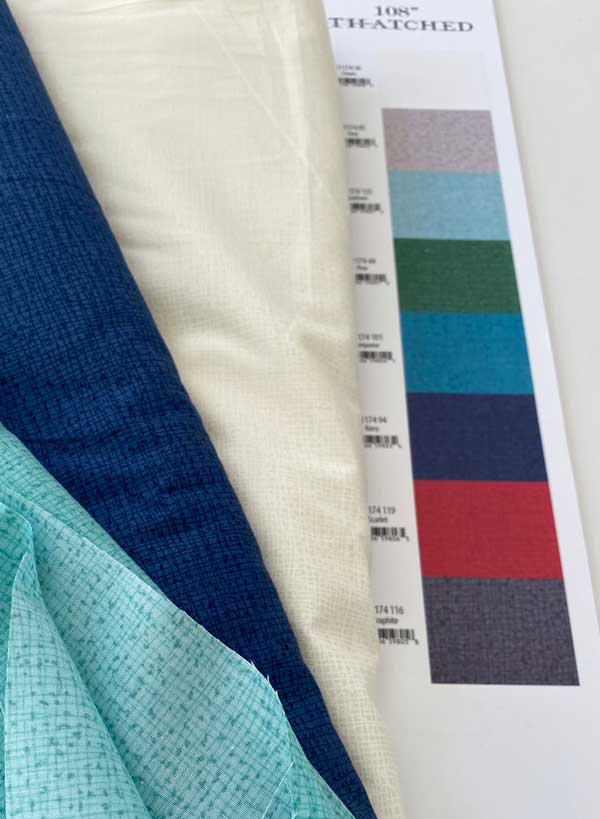 When designing patterns for this group, I was influenced by decorations for home decor.  The Collector showcases the hydrangea and drawn prints like painted pottery in jars, vases and bowls. This pattern uses twenty Fat Eighths of prints to make the groups of vessels.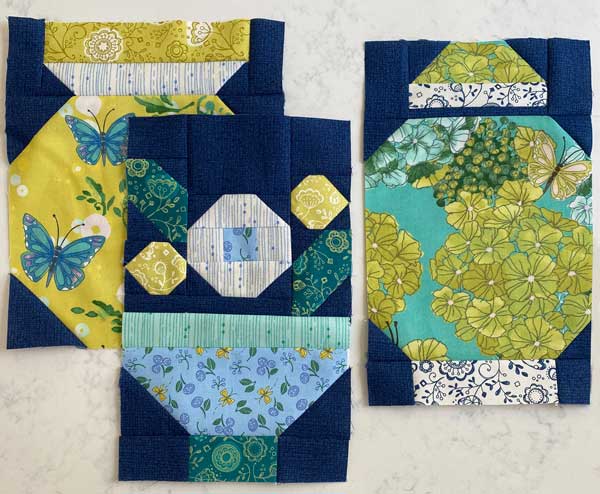 I was influenced by chinoiserie ceramics and imagined elegant jars upon my shelves. I think this pattern would be nice done as a single line of jars and vases for a table runner, or using a couple elements for a pillow.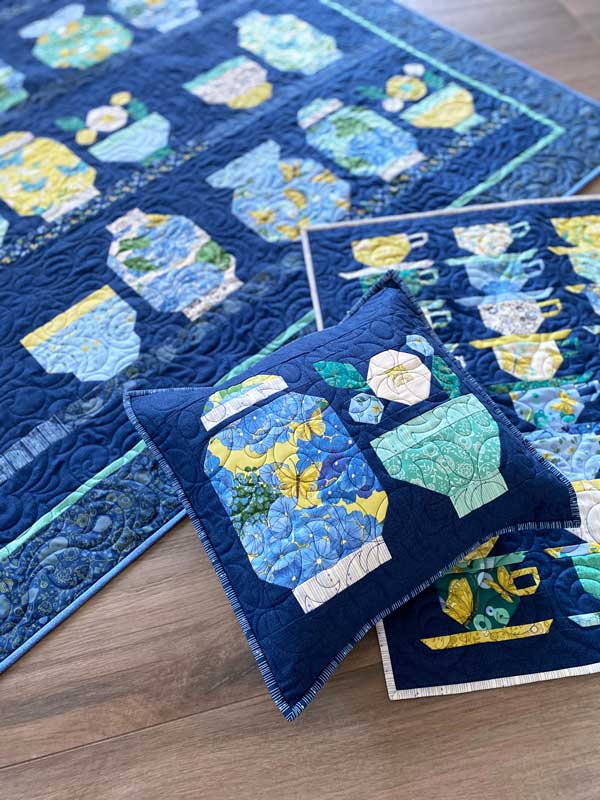 The Collector finishes at 67½" x 65", and it is RPQP TC136.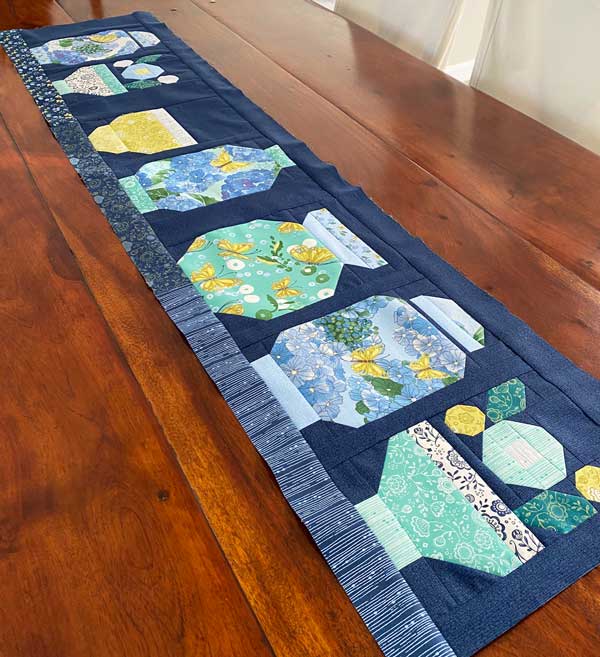 One little tip for this pattern…if you want more jars instead of vases, just flip the angled neck on the widest vase upside down and it will look like a jar lid instead! I have been gathering up some cute novelty prints to try in the jars for another version, including pantry items like peaches, berries and cookies, as well as a crafter version with threads, buttons and scissors inside the jars and bowls.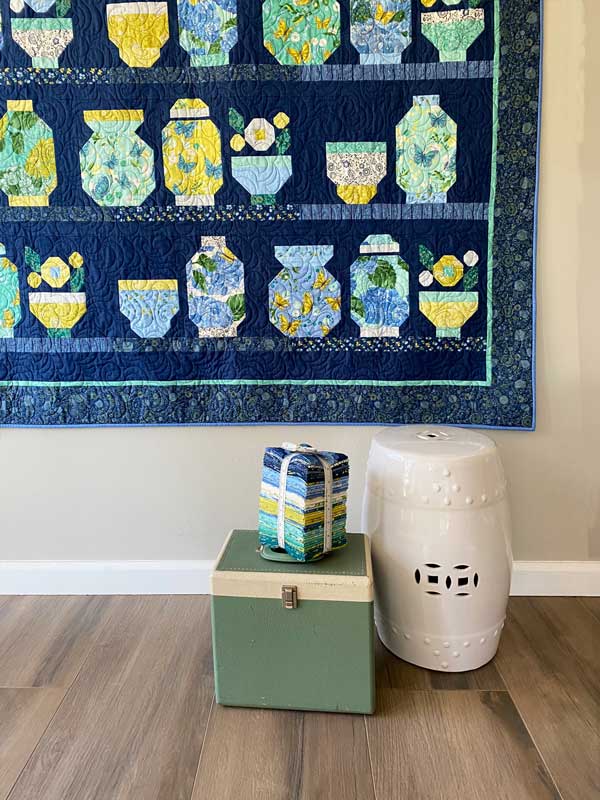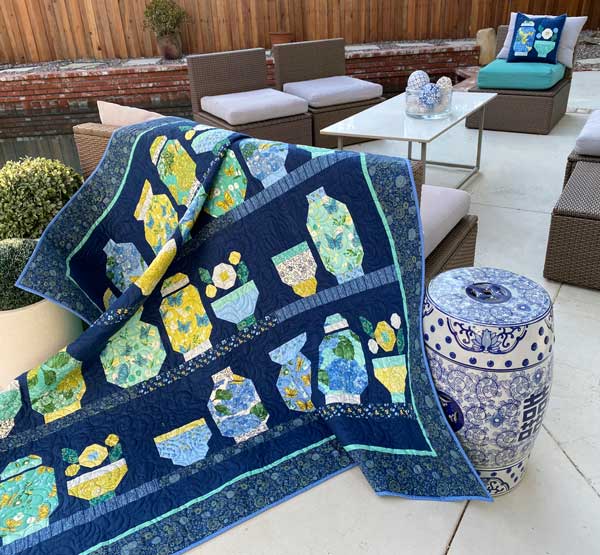 Another new pattern for this group is Ring Around the Posies and it uses a Jelly Roll to create flowers and leaves that form a large floral wreath.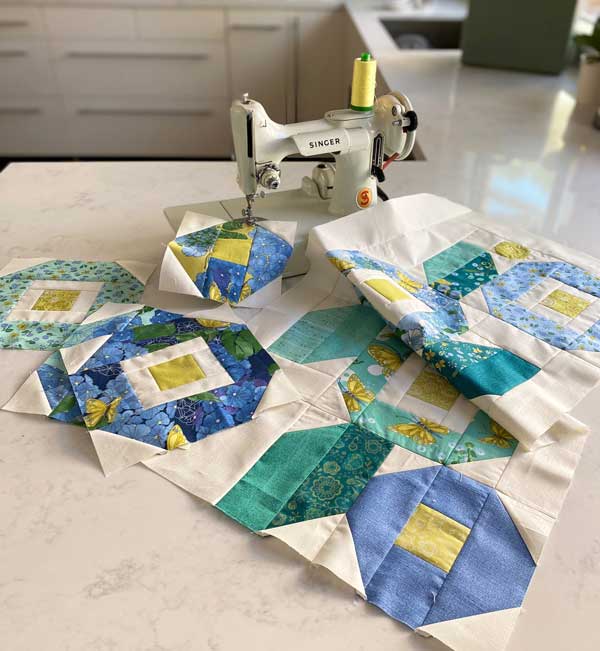 Ring Around The Posies measures 64½" x 64½" and it is RPQP RAP133.
The linear print fabric makes a thin inner sashing and corners which compliment the wreath form. I left the center open in this quilt design with the intention of leaving a space for special medallion quilting. You could also add some appliqué - or what about monogram initials? - in the space. I had such fun photographing this quilt after piecing when I saw the sun coming in and it looked like stained glass!!
Wind Drifter plays with Fat Eights to make half square triangles that form a pinwheel of motion and calming color breeze.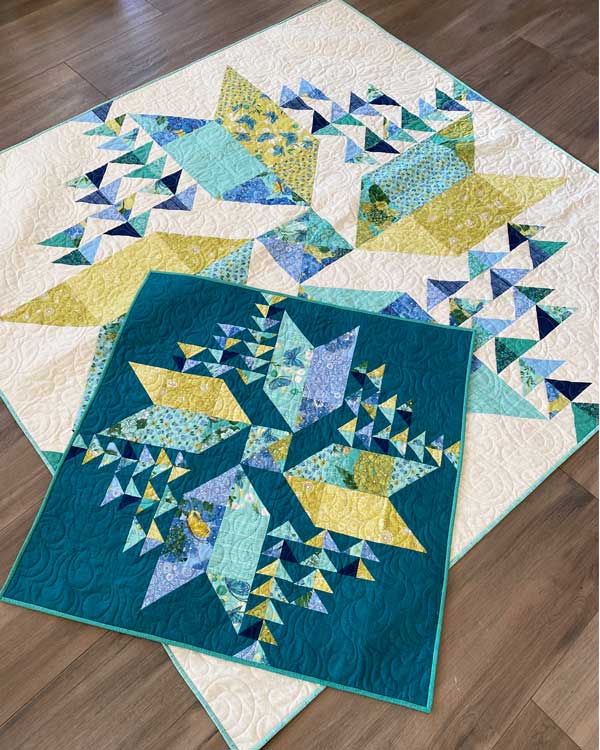 The small Windrifter quilt uses nine F8s and finishes at 33½" x 33½".  The big quilt measures 65" x 65" and requires seventeen F8s.  Windrifter is RPQP WD135.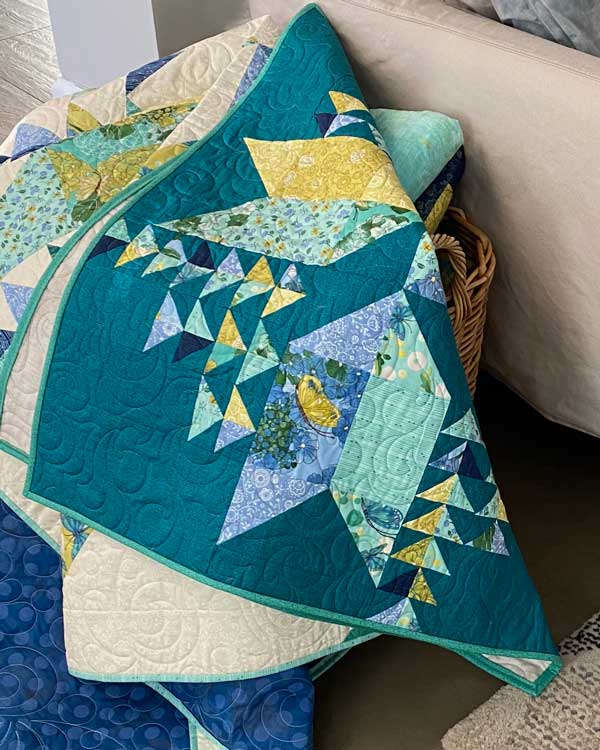 This quilt is kitted by Moda in the large light version - that's it below.  The kit includes a roll of triangle paper to make assembly of the half square triangles go more efficiently. I use triangle paper a lot and love that it cuts down on trimming the units after sewing and cutting them apart. Just sew on the dashed lines and your HSTs are perfectly sized!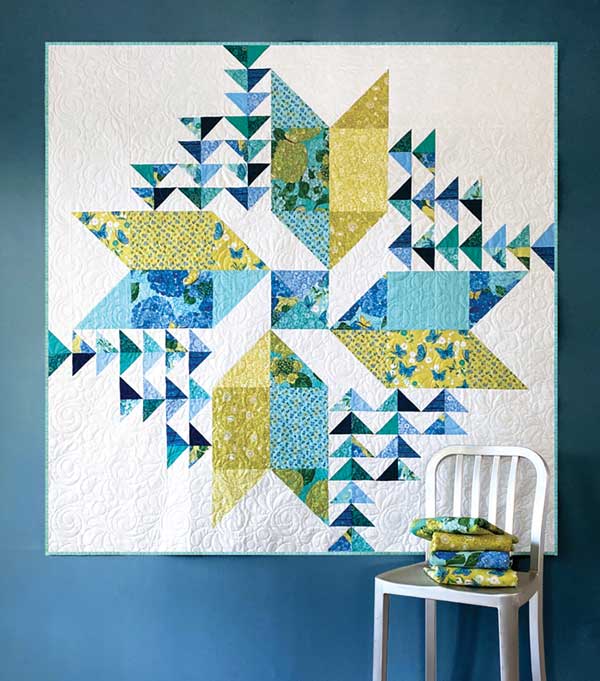 After all this sewing, maybe you would want to take a break and have a cup of tea? You are in luck since I have a pattern called English Breakfast Mini Quilt to celebrate the tea party.
This wall quilt uses a single Charm Pack with background fabric to make pretty stacks of teacups. The Cottage Bleu prints look like an elegant tea party of blue and white china and floral vintage cups in this version of the quilt.
Finishing at 29" x 27½", this English Breakfast Mini Quilt is RPQP-EBM134.
Want a little glimpse of behind the scenes of a Market booth when there is no Quilt Market? This is my kitchen with my quilts set up to show the sales team!
The last year of pandemic sure brought new opportunities to rethink how we shared our ideas with the world.
One more fun thing to share with you all! I am excited for June because the Sampler Spree sewalong starts. These were a couple blocks I made from Sewcialites and Moda Block Heads 3 when I had some sample fabric of Cottage Bleu.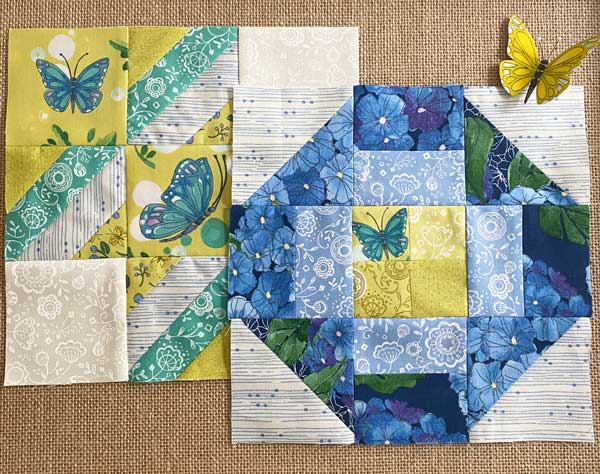 Sewcialites Blocks 4 and 5.
Moda Block Heads 3 Block 41.
This inspired me for the coming-soon Sampler Spree quilt-along. I've got my book by Susan Ache and I'm ready to sew and post on the Moda Block Heads Facebook group. I'm celebrating Cottage Bleu arriving in shops by doing my whole sampler in my hydrangea blues (well, with a few greens added in there). My plan for the quilt is to follow the original setting of the quilt but make the outer perimeter rows of blocks in the dark blues, the next rows towards center in the medium blues and the middle of the quilt in the lightest blues and whites.
It might change a bit from this mockup but its my plan for now. I hope you are joining us as Quilt-alongs are so much fun!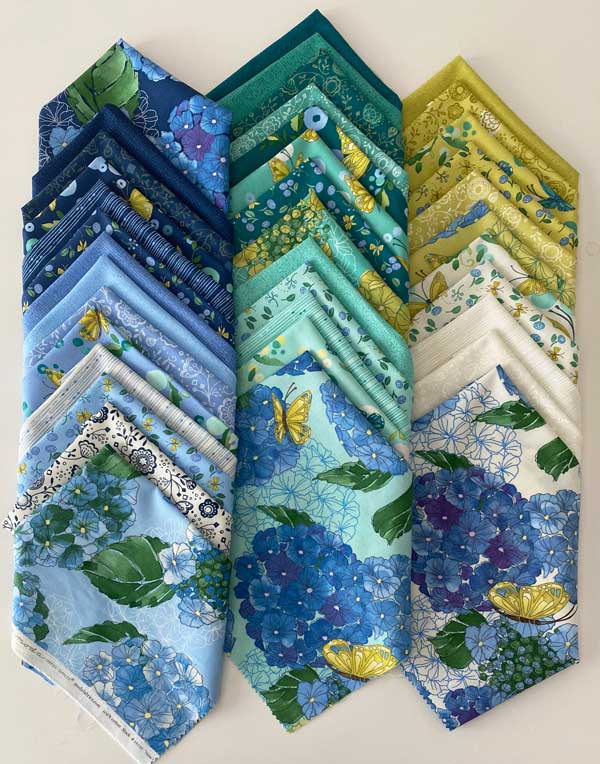 If you want to see what else I'm working on, you can find me here: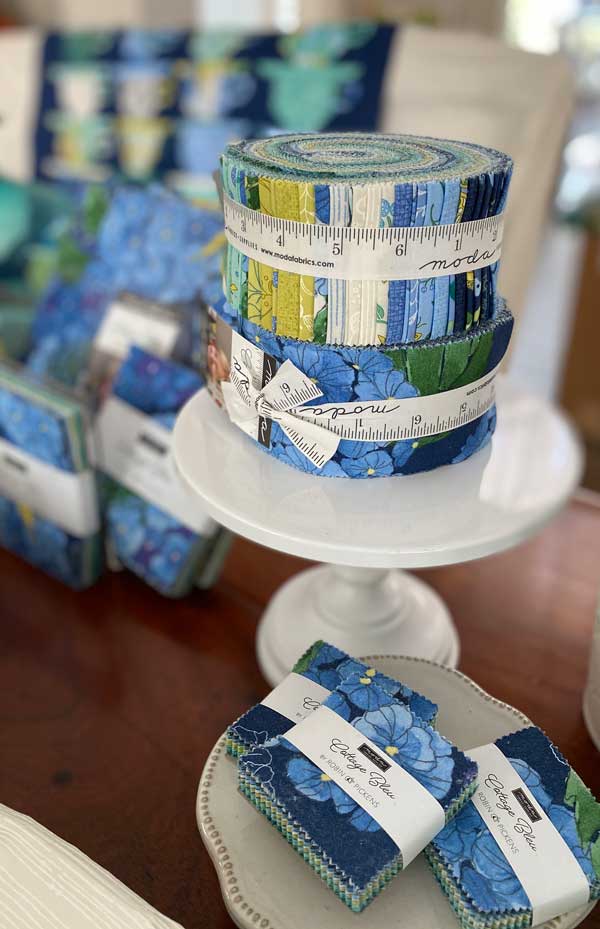 I hope you find calm, serenity and beauty in this collection and can escape for a visit to Cottage Bleu.
Robin