Scrappy Celebration- the end
Scrappy Celebration- the end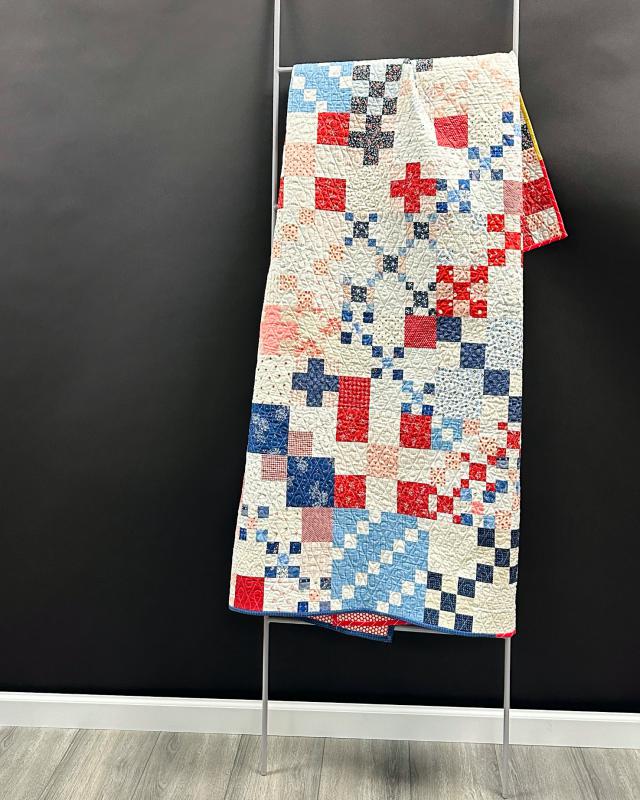 Welcome to the last week of the Scrappy Celebration QAL. First I have to say, this s not a race so no matter when you started keep on going and sharing your progress.
I mentioned before that I am using leftovers for my binding. I usually cut my binding on the bias unless the print looks better on the straight of grain such as a stripe fabric printed diagonally.
My go to measurement for bias binding is usually 5/8 yd or 3/4 yd. This makes lots of binding and i save the leftovers. 
While the standard cut measurement for bias is 2 1/2", I cut mine 2 1/4" to have a narrow binding edge. Please keep in minding the thickness of your batting becasue 2 1/4" does not work on thicker quilts.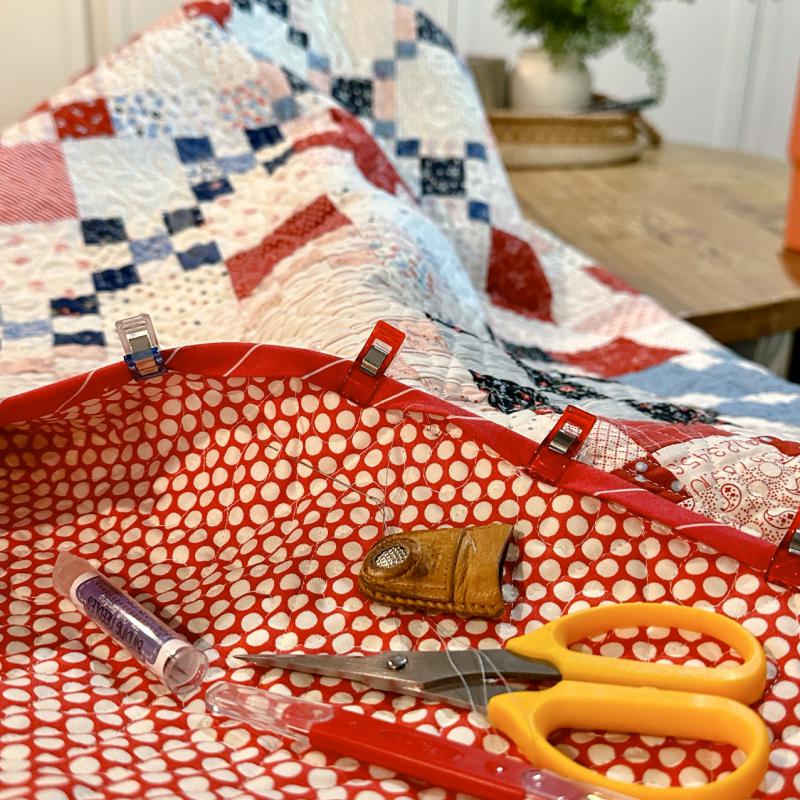 I am extremely impatient when it concerns the binding.
I just want it done.
I don't do much hand work, but once I dive in I actually enjoy the process. I  thread several needles in advance, so I have them ready for when my eyes get tired.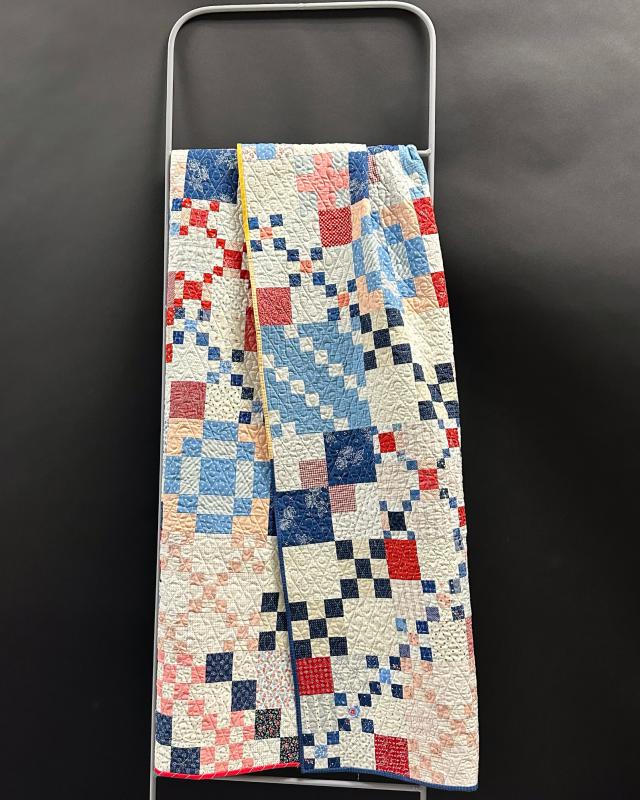 Here is a picture of some of the edges of the quilt. I even threw in some yellow to add a bit of punch to it. Doing off the wall stuff like that just makes me happy and gives me a story to tell.
Hope you all have enjoyed this QAL and a great big thanks to American Patchwork and Quilting for inviting me to be a part of there 30th Anniversary.
Last week I promised a few sneak peeks on some upcoming Moda QAL's. While this list is not complete, you may want to mark your calendar and  add some fabrics and patterns to your shopping cart.
Summer Memories Book QAL
with Susan Ache and FQS
May 1- June 26
Book Stock # ISE 954
Happy Go Lucky by Sherri McConnell
June 2023
Featuring Simply Delightful fabrics
A Quilting Life pattern, Stock # QLD 224
Fat Quarter Friendly
79" x 79"
37640 AB
37644 11 - setting triangles- 7/8 yd
37644 27  - inner border 5/8 yd
37640 29  - outer border 1 1/4 yds
37646 28  - binding 3/4 yds
37642 24 -  backing 5 1/2 yds
OR 
make it will one background of your choice 2yds.
shown here 37644 31
QAL will be hosted- https://www.aquiltinglife.com
Vintage Greenstone

 
82" x 82"
Late June
runs 3 weeks
Instructions- Will be available on the Moda blog during the QAL
Greenstone Dessert Roll- Stock # 18220DR
Background and corner squares- 5 yds 18232 11
Backing- 2 1/2 yds of 18221 11 and 18225 11 for a faux pieced back
Binding- strips from leftover dessert roll for scrappy binding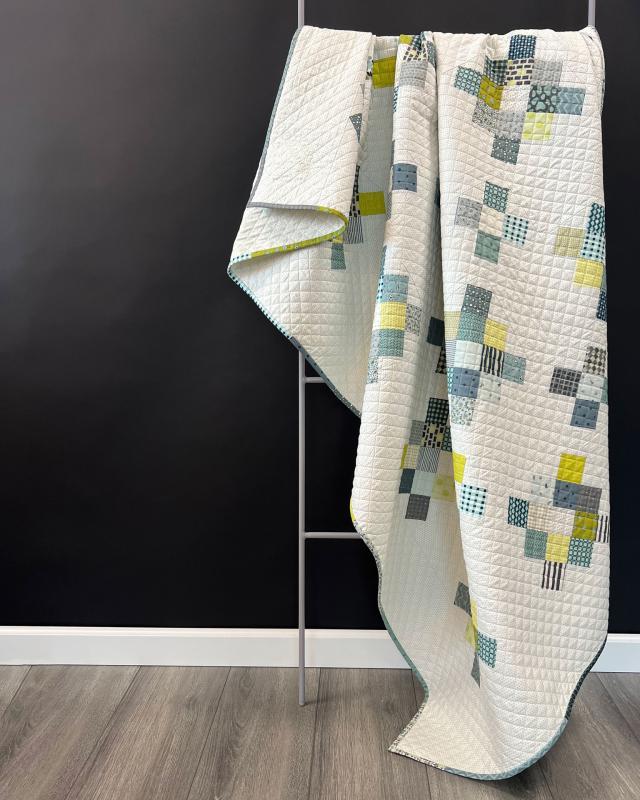 TWILIGHT STARS QuiltAlong
June 2023
Featuring  Rustic Gatherings by Primitive Gatherings and Spellbound by Sweetfire Road. 
Yardages- Moda F8's or FQ's 
A bundle of Spellbound and Rustic Gatherings along
with background of your choice.
There are 3 size options for blocks 4, 8 or 12" so
you have different size quilts to choose from. 
Book- Triangle Gatherings Stock # PRI 1005
Hosted by Lisa Bongean of Primitive Gatherings
Joyful Gathering QAL
August 2023
Stock # 49210AB FQ tower of Joyful Gatherings
4 yds of Bella 9900 182
Binding  3/4 of your choice
Backing 6 yds
Pattern compliments of Lisa Bongean/Primitve Gatherings on her blog during the QAL.
So much fun happening over the next several months. Be sure and change your needle and oil your machine.
Thank you so much for choosing Moda Fabrics.