Face Mask Options
If you have a sewing machine and fabric, there's a good chance that you've probably made a few face masks in the past several weeks.  They're still needed by health-care workers and those caring for others, and now we're being asked to wear face masks when we venture out of our homes.
It feels a little odd but I expect it's something we will get used to, that instead of being the curiosity, those not wearing masks will be in the minority.
But we're running out of elastic!  Who knew that it would be a valuable commodity in 2020?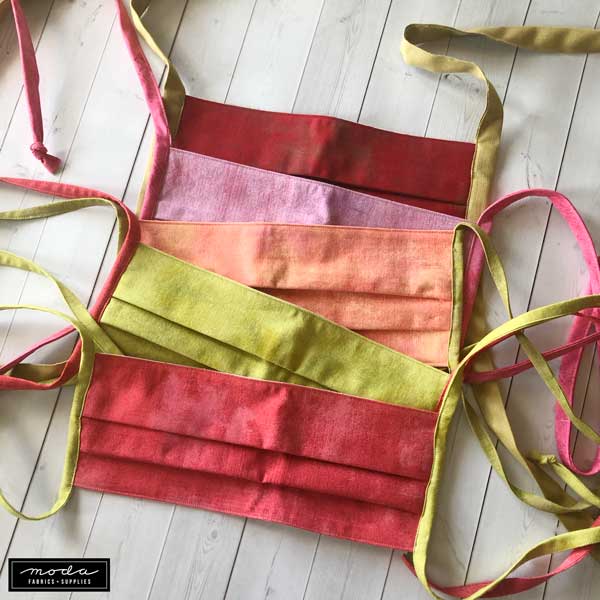 I don't know that anyone has kept an actual count, but the ladies at Moda have made close to a thousand face masks.  For donations, for friends and family, for co-workers who don't sew.  We've experimented with different patterns, fabrics, linings, openings for filters, nose wires and options for the 1/4" elastic. 
The first and most important thing to keep in mind when making a mask is to know what the intended recipient wants.  If the masks are for healthcare workers, ask them what they need.  Do they want an opening for a filter?  A nose wire?  
Ties vs. elastic.  Elastic is easy and often more comfortable to wear, but there are important reasons why ties are a much better option.  The images we've seen of nurses and doctors wearing masks with elastic are almost always disposable, they will not be laundered and cleaned using extreme heat.  That breaks down the elastic so masks that will be re-used usually have ties.  Size - as most of us already know, one-size does not fit all.  I made masks using two different patterns and tutorials, and one mask was too tight, the other was too loose.
And since most of us don't have any elastic left, what kind of options are there for making ties?
Cut strips of fabric on the crosswise and make a tie.  I cut strips 1.5" wide x the 42" crosswise width of the fabric.  The strip is then pressed to make a double-fold binding.  If you have a Clover 25mm bias tape maker, that will make the task quite a bit easier.  And yes, the crosswise grain strips will work.  
The binding is then attached to the mask with top-stitching.  
Pre-made bias binding.  This can be a roll like Moda's QB2 bias binding or packaged binding in a 7/8" width.  While the bias binding can't be pre-washed, the bias cut of the fabric meant that there wasn't a problem after the masks were laundered.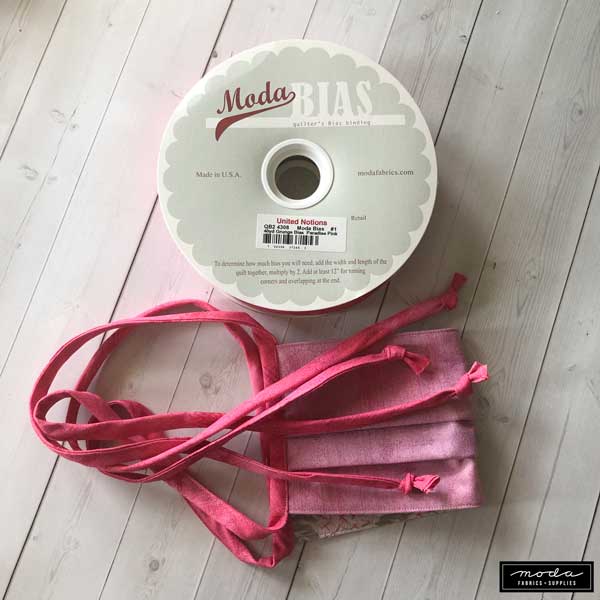 This worked very nicely and attaching it went quickly.  I cut two 42" lengths, one for each side.  The strip was folded in half to find the center - the 21" point - and that was matched to the center of the face mask.  It was attached to the mask with a 1/4" seam allowance.  The two raw edges were kept together and folded up 1/4" and pressed in place.  The folded edge of the bias binding was folded over and the entire length of the strip was top-stitched.  That enclosed the raw edges and the finished width was approx. 1/2" wide.  Instead of fussing with the ends, I tied a tight knot and trimmed it.  
Moda's Tammy V has made at least a hundred face masks using her this bias binding and her serger.  She cut one length of bias binding and but it in half on the fold to yield 2 strips that measured approx. 1.25" x 42" long.  She folded the strip in half and stitched the raw edges with the serger, attaching the strips to the mask at the same time.
Twill tape.  It's cotton, the edges are finished, and it can be pre-washed.  (Though I chose not to for experimental purposes.)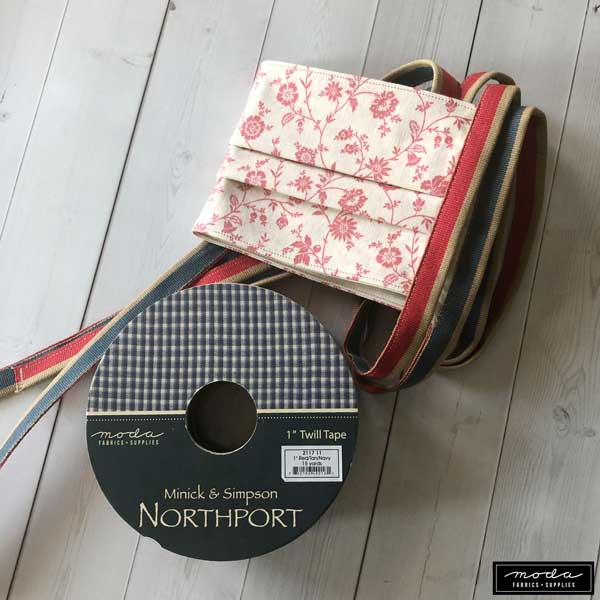 This Northport 1" Twill Tape worked nicely.  It's a bit heavier than the other twill tape I tried but the 1" width was better.  The ties still tied easily, and they didn't feel heavy.  They softened up a bit after washing, and I expect that will continue.
I also tried the Boro Findings 1.5" Twill Tape.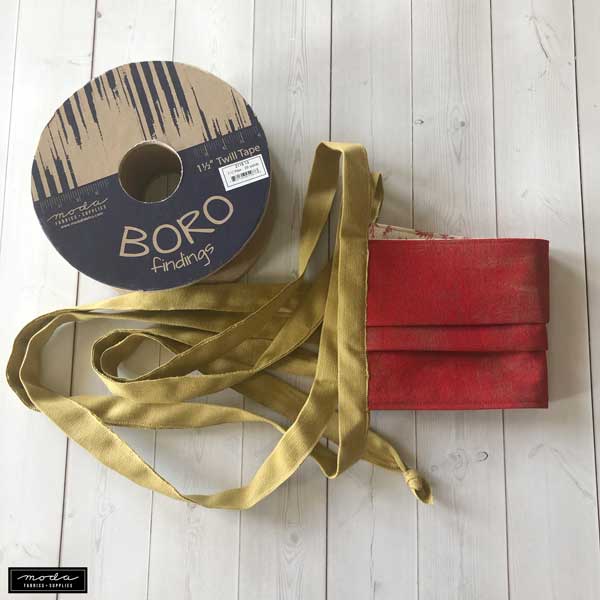 This twill tape was easier to stitch and work with than the Northport, but it's definitely wider.  It washed up nicely though it needed a little pressing to make it flat.  Despite the width, it still tied easily and was comfortable to wear.  
Tammy used the twill tape that measures 2.25" wide for a couple of masks.  She cut the twill tape in half to make it 1.125" wide.  She folded the raw edge up one-third and stitched the finished edge down on the fold.  That made a finished tie that was a generous 1/4" wide.  It was still flexible and easily tied.
As you can probably guess, we've been experimenting with different fabrics for both the outer layer, and for the linings.  Simply put, not everyone wants a pretty floral or a funky novelty print.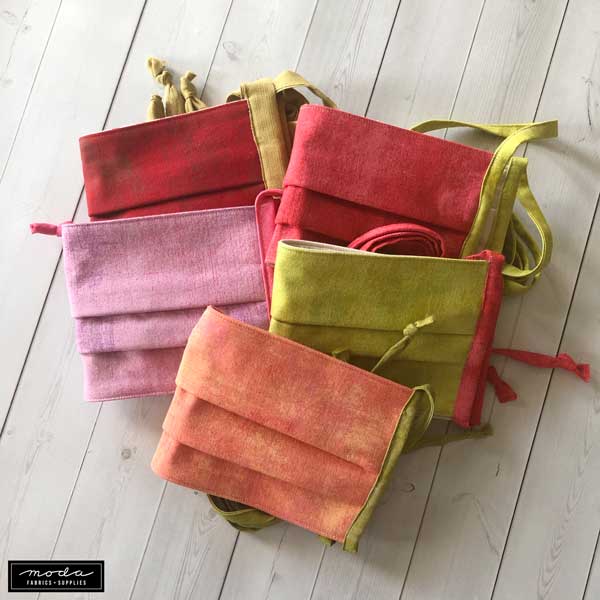 Got Grunge?  We do.  I had cut these fabrics for a project of some kind - I honestly don't remember what it was now - so into the wash they went.  
Washing face masks.  If your masks are for others, they should be washed and dried in hot water before they are donated or gifted.  They will probably need to be pressed to make them look like new.  
The masks we're wearing ourselves need to be washed after every wearing.  Hot water.  With soap.  Some folks also recommend adding a little bleach.
Also, don't touch the front of your mask when you remove it.  Don't pull it down and wear it under your chin, or push it up like a headband.  If there are microbes of any kind on the front of the mask, they've been spread to other areas. 
Wearing face masks.  I will happily confess to following the expert advice when it came to making face masks.  But I learned the most after wearing some of the masks I had made.  From the fit to the breathability, I started making different choices based on my own experience.  What I know to be true is my fabric and pattern preferences are probably different than yours.  I didn't like wearing the mask with a nose-wire, or the mask that had darts to shape a mask for the nose and chin.  I love Moda's cotton lawns for the masks, especially the lining.  
The pattern I have been using is one I saw on Instagram.  Unfortunately, there isn't as good a tutorial or description to be found online.  Stephanie Ruyle - @spontaneousthreads - is married to a doctor, and she started using a pattern adapted from the Cuban Ministry of Health.
If you have an Instagram account, here are the three posts: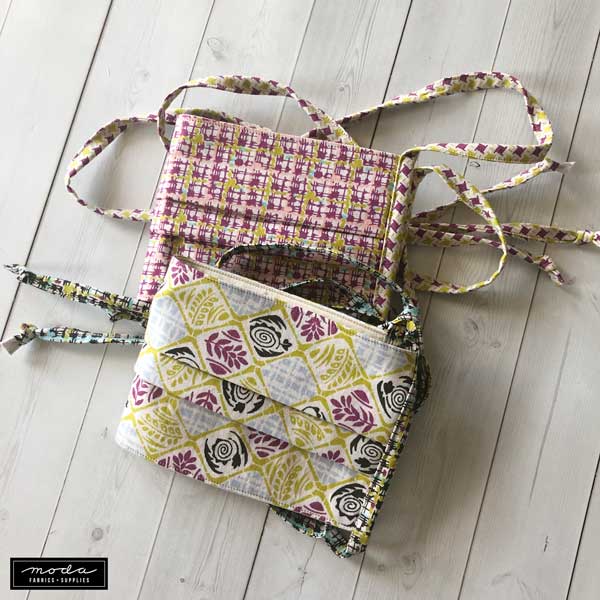 Jen Kingwell's Moving On Lawns.  I knew there was a reason I was saving some of this.  I will be making a few masks with French General's Tres Jolie lawns and the Regent Street 2019 lawns next.  
We know these masks don't take the place of the N95 masks needed by healthcare professionals taking care of Covid19 patients.  They aren't perfect, and they aren't going to stop the high viral load that healthcare professionals are exposed to.  But with proper social distancing, washing our hands frequently and wearing these kinds of face masks, we can help stop the spread and save lives.
Stay safe.