BH5 – Block 1 – Betsy Chutchian
BH5 – Block 1 – Betsy Chutchian
For the first official block of Blockheads 5, we've turned to an Original Blockhead -- one of the designers from Blockheads 1 -- Betsy Chutchian!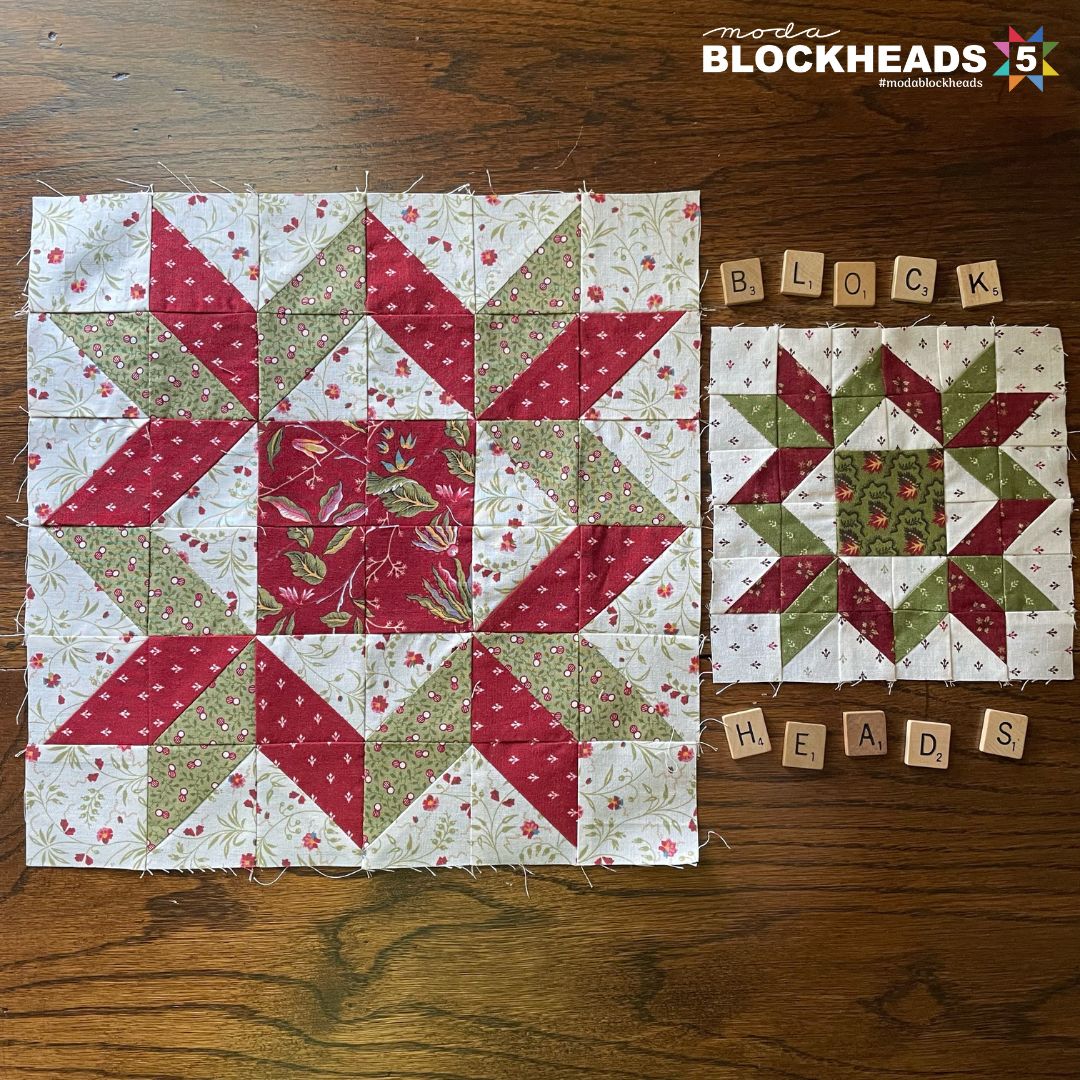 You can find this week's pattern here: BH5 – Group 1, Block 1 – Bright Star by Betsy Chutchian
Follow along with Betsy!
Instagram: @betsy_chutchian
https://betsysbestquiltsandmore.blogspot.com/
If you're new to Blockheads, here are a couple of quick things to know:
This is a free quilt-along. No sign-ups are required. Just download the pattern and you're ready to sew!

The PDF patterns will be posted on the Moda blog and in the official Facebook group every Wednesday by 8:00 AM CDT.

You can also bookmark this page: Blockheads 5 main page to find a convenient list of all the patterns as they are released.
If you'd like to sign up for our blog newsletter to get blog posts delivered to your inbox, you can sign up here: Blog Newsletter Sign-Up
If you want to sew along with a virtual Blockheads community, head over to Facebook and join our official Moda Blockheads Facebook group. Our group is an active and vibrant community of 65,000 quilters and counting! It's a great place to be inspired and share pictures of your Blockheads progress.

If Instagram is where you prefer to hang out, be sure to follow us (@modafabrics) and the hashtags #modablockheads and #modablockheads5 to see the latest blocks from our designers and other Blockheads.

Be sure to get your official Blockheads t-shirts, sweatshirts, tote bags, water bottles, and more from our pop-up shop HERE.
(Looking for a little more information about Blockheads? You can check out the Blockheads 5 archive HERE.)
Be sure to head over to Betsy's blog as soon as you've downloaded the pattern! Betsy is sharing her tips and tricks for fabric placement and construction options for Bright Star. She has so much great information in her post – you don't want to miss out on that! You can find Betsy's blog here: Betsy's Best Quilts and More
After seeing everyone's bonus blocks in the Facebook group and on Instagram, I am especially excited to see what everyone does with Betsy's block this week, because there are so many design options here! From different fabric placements to construction methods, Bright Star offers lots of opportunities to be in the designer's seat and put your personal stamp on this block.
Right off the bat, I know many of you will prefer to cut just one center square instead of four smaller squares (piece F in the pattern instructions). If you want to do that, you'll need to cut (1) 2 ½" square (F) for the 6" finished block or (1) 4 ½" square (F) for the 12" finished block.
This will change your overall block construction method, as you won't be able to create the four corner units as written in the pattern. Instead, break the HSTs and A squares into units of four as shown here: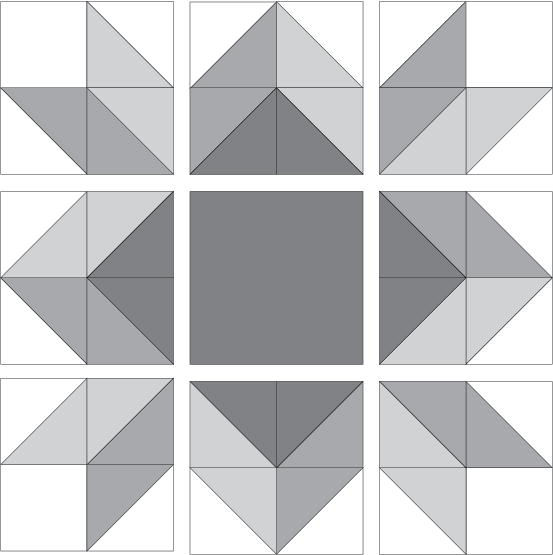 Betsy has used both construction methods for her Christmas and Halloween blocks. She's used four smaller F squares in the 12" finished blocks and a single large F square in the 6" finished blocks.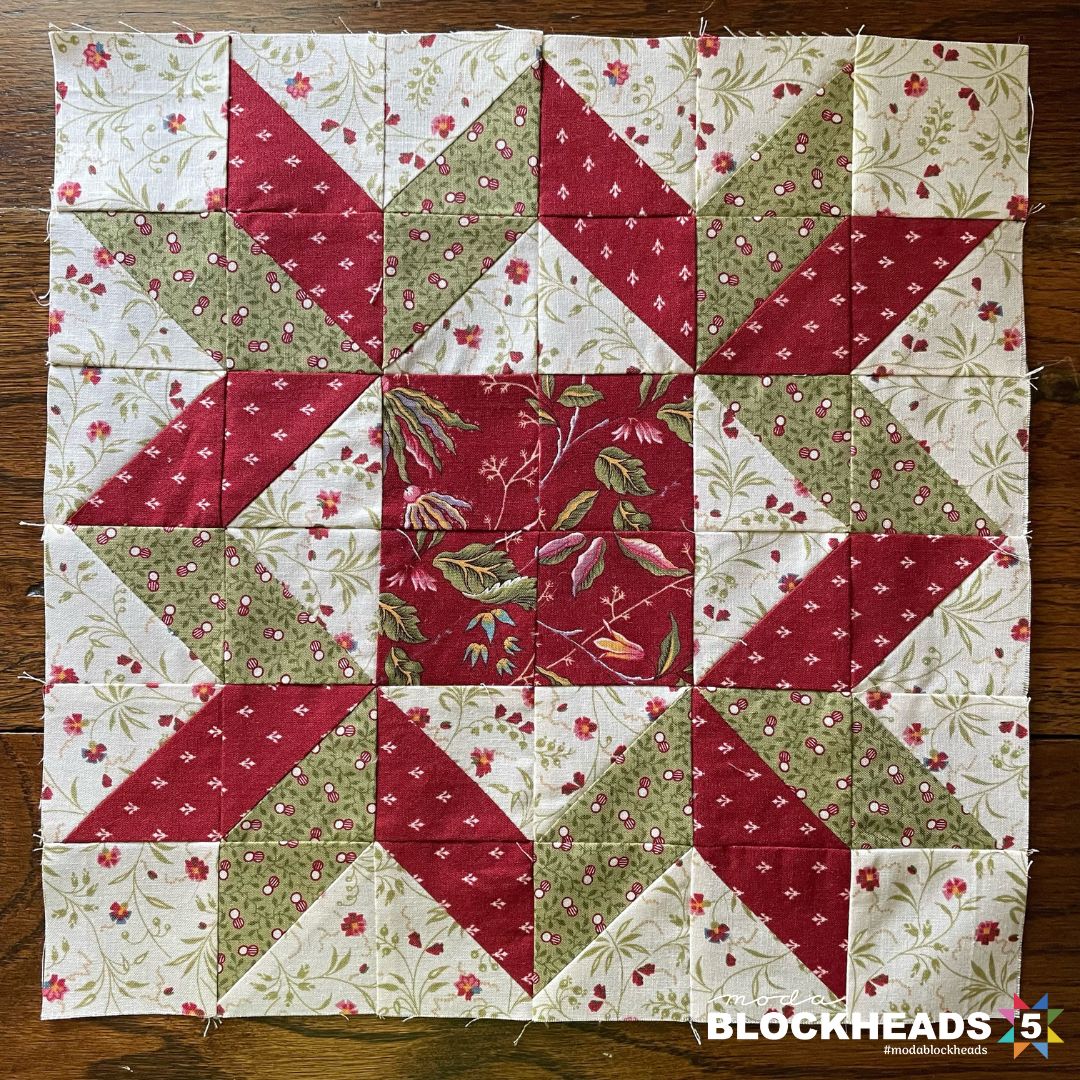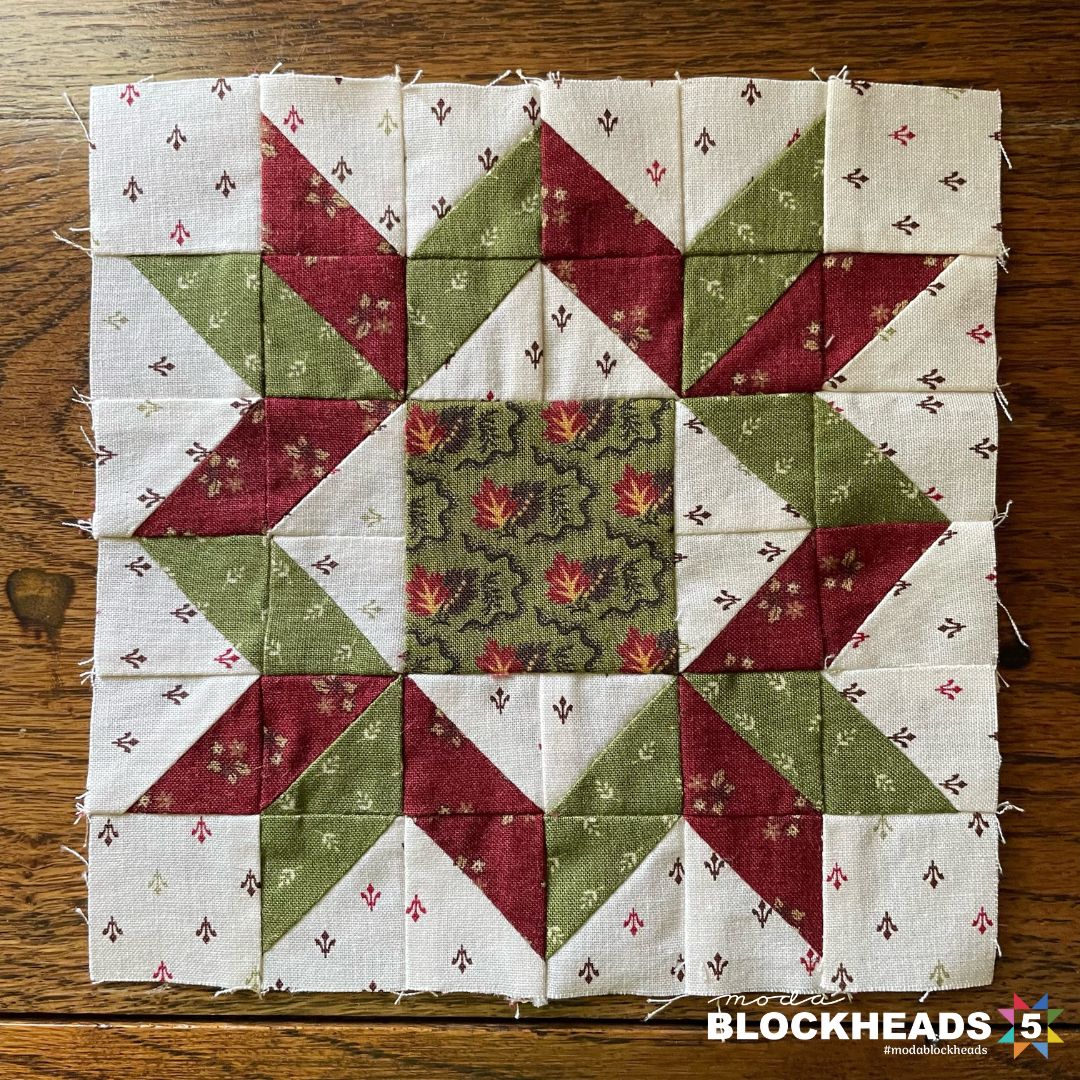 Betsy's 12" finished Halloween block makes me want fall to be here NOW! I think I'm definitely going to have to put together a scrappy, repro fall bundle and make my own version!
You can see more pics of Betsy's blocks HERE here and read more about Betsy's fabric pulls for Blockheads 5 on her blog HERE.
Tammy is using some of Betsy's past collections for her blocks this round. She fussy cut her block centers to make a lovely floral focal point!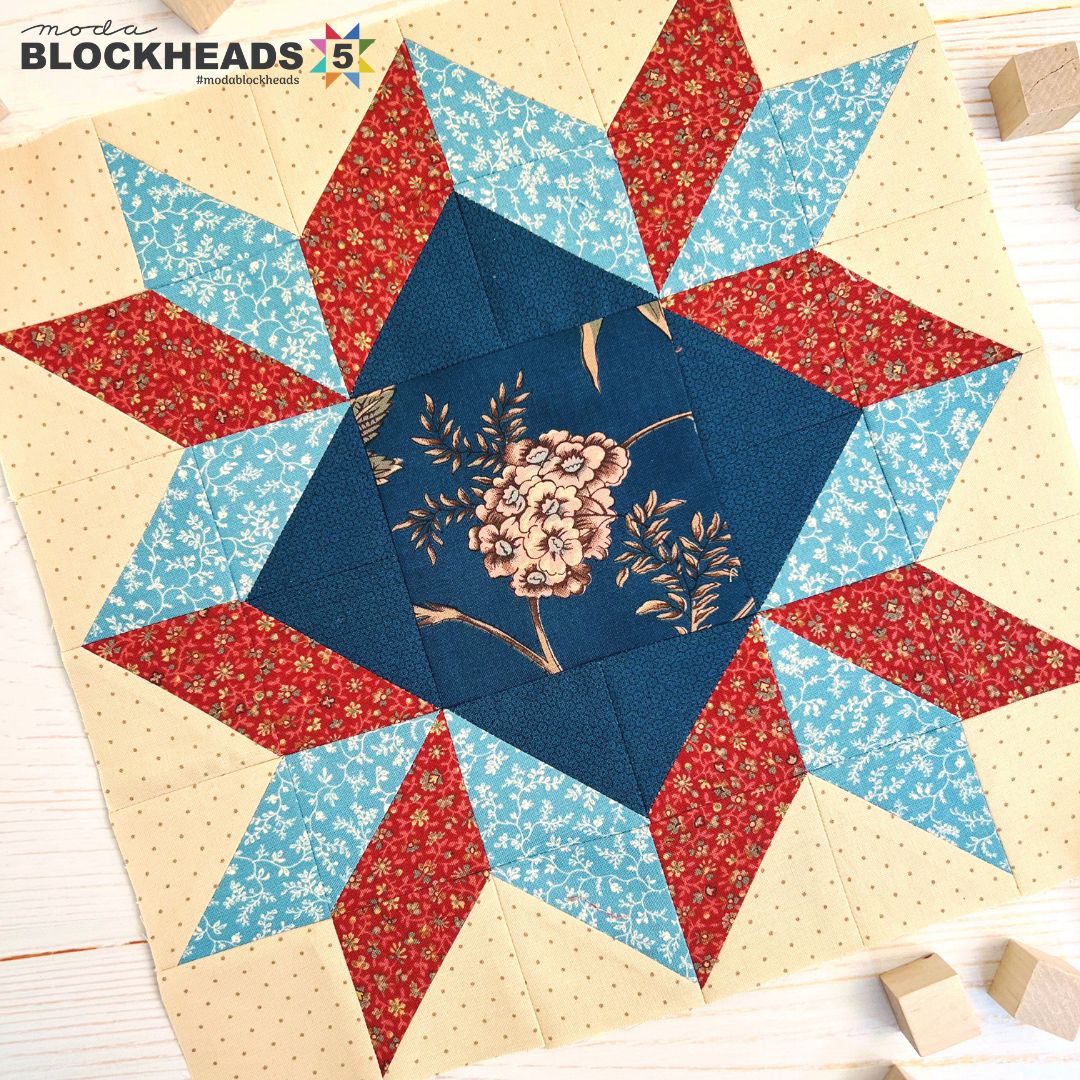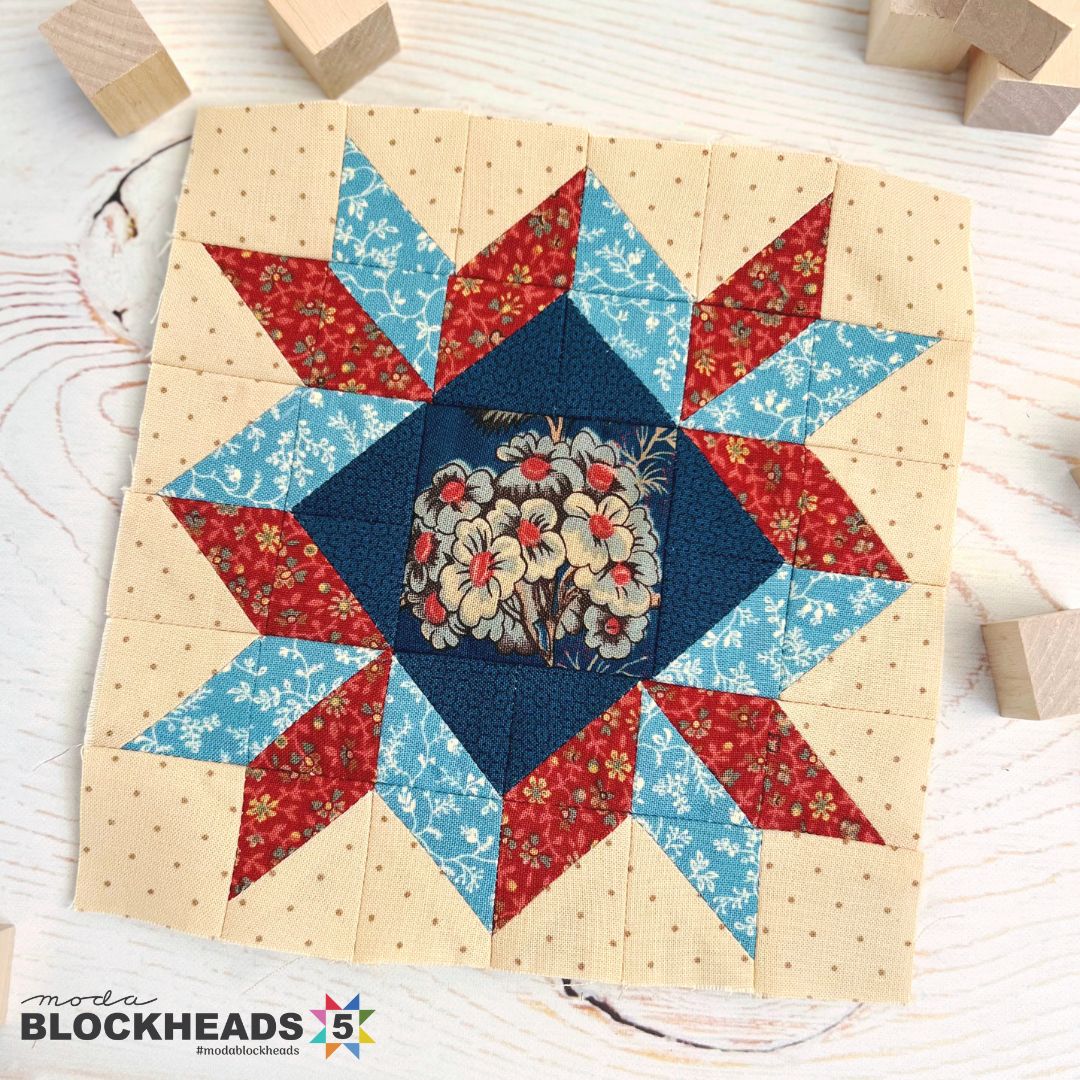 Alison made her 12" finished block with Christmas fabrics, using a fun novelty print for the center. Her 6" finished block is made with Bella Solids – I love her color choices here and the two-color center!
I opted to use one print for the background for both of my blocks. I liked how this green print from an older Brenda Riddle collection makes the red prints in my HSTs really pop! Rather than having two different colors in my HSTs, I decided to keep my prints in the same color family for a slightly different look.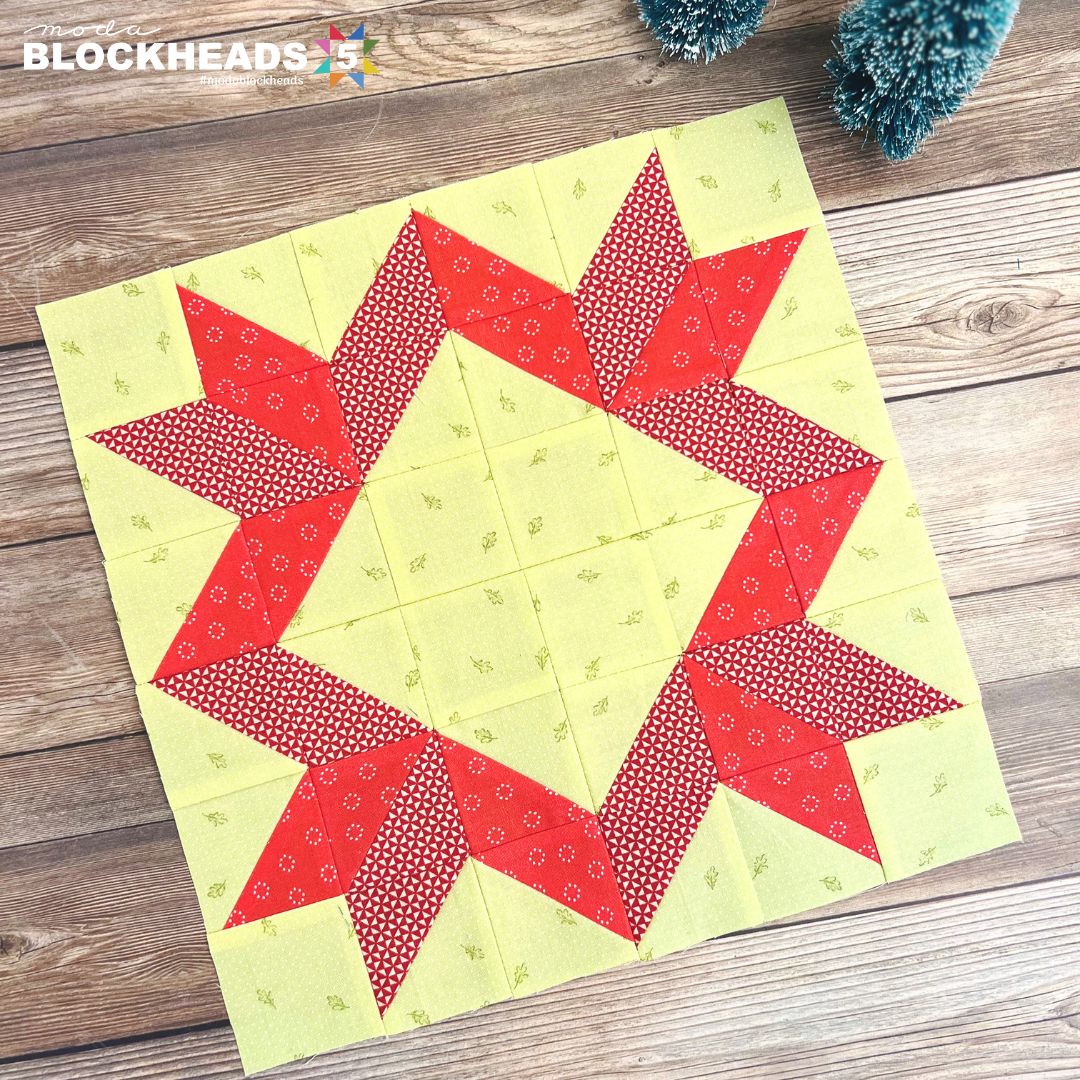 Now…off you go to press, cut, and sew! And don't forget to share your blocks with us in our Facebook group or on Instagram (#modablockheads5)!